Wilberry Hall Interior Design in Banbridge
Established in 2001, Wilberry Hall Interior Design has been building up an impressive and enviable reputation amongst our peers and the local community for over a decade. We have been under the current ownership since 2007.
Click here to make an online enquiry today.
Interior decorator in Banbridge
Based on Church Street, in the heart of Banbridge, our convenient and homely premises house an extensive library of pattern books, catalogues and fabric swatches. In addition, our showroom also displays a range of styles, from modern to classic, including curtains, wallpapers, furniture and original Irish art.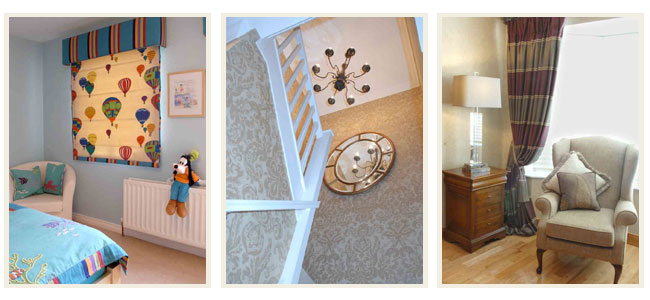 All of our staff are fully qualified in their respective fields and whilst working with Wilberry Hall, we strive to make sure that our clients will experience a friendly and relaxed, yet professional service.
Please call us on 0284 0628008 to make an enquiry today.
Home Decorating Ideas
Over the past decade, we have created and perfected a personalised interior decorating service where we can offer you a one to one consultation with our design professional who will oversee your project from start to finish. To help make this process as easy on you as possible, we provide private appointments for our clients, whether in the showroom or your own home, at a time convenient to your schedule, be it day or evening time.
Interior Designer Team
Wilberry Hall works closely alongside a small selection of qualified and experienced craftspeople that not only produce our goods, but also deliver them to the client's home and also provide our complete fitting service.
If you are interested in learning more, please click here to call us or please make an online enquiry by clicking here.