Decorating Services in Banbridge
When it comes to your decorating needs, we know that you demand a top quality service and because of this we have created a fully personalised process to help us meet your requirements.
Personal Interior Decorator in Banbridge
How our design process works?
Potential clients are free to call into the showroom at any time, where they can take a seat and discuss the work they hope to do.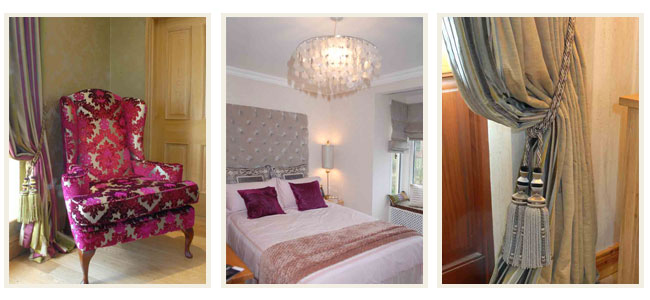 After a brief meeting, an appointment is usually made, to be held either in the showroom or at the client's home, to enable the designer to gain a greater sense of the client's preferences with regard to fabrics, wall and floor coverings, and furniture, etc.
It is always very useful to have the home appointment as early as possible in the process, as this lets the designer assess the scale of the project, the natural light available and the general layout, etc.
A home visit consultancy fee is charged, with the cost dependant on location.
Please click here to make an enquiry now.
Luxury Designs in Banbridge
Following the initial meetings, a more detailed scheme will be prepared and the client is invited back to the Banbridge showroom to view this. At this time any necessary adjustments or alterations to the scheme can be made.
Once the client has decided upon a scheme, a quotation will be prepared. At this point, if all aspects of the scheme and quotation have been agreed, the project can continue, upon receipt of usually a 50% deposit.
When the project is ready for completion, a time convenient for the client will be arranged and the goods will be delivered to and fitted in the client's home, by a reliable, professional team.
Should there be any queries following this, they will be dealt with quickly, and without hassle to the client.
Contact us for more information on Luxury Designs in Banbridge, by clicking here to call us or here to make an online enquiry.